I had the honor of being featured as a star in Eloquii's Spotlight Series. This privilege allowed me to discuss fashion, but also highlighted my passions of coaching women physicians and mentoring aspiring medical students, but most importantly I was able to talk about my personal journey and what inspired me to start HopeWell Pediatrics.
Spotlight SeriesBlog Posts#XOQ
Dr. Tiffany Petty
Dr. Petty champions much of the medical ecosystem. She treats patients as a pediatrician; advises medical students as a mentor; and supports burned-out physicians in her coaching consultancy. She even married a fellow doctor. While she moves between her commitments, one thing is unchanged: her belief that when you look good, you feel good. For Dr. Petty, that means feminine, frilly outfits with an edge
Dr. Tiffany Petty Pivots to Her Own Stylish Practice
"The moment I decided, it was like I was on fire"
When Dr. Petty was growing up, she wanted to be a stylish doctor. This became her reality 10 years ago, when she took the Hippocratic Oath and set herself up with a patient-friendly ELOQUII wardrobe along the way. This summer, she'll be the stylish doctor who owns her own pediatric practice and physician coaching consultancy. It's a pivot she gathered the courage to tackle after enduring the challenges of both the healthcare system and a pandemic year.
"I can't stop. I have no choice but to succeed and set an example for them that they can succeed."
New Moves
As she builds, her days look temporarily different from the routine of well visits for newborns and diagnosing sick teenagers. When we spoke, Dr. Petty was in between zooms with her legal team, onsite visits with commercial realtors and reviews with graphic designers. Not to mention intermittent virtual classes for her two school-age sons, who motivate her to keep going every day. "I can't stop. I have no choice but to succeed and set an example for them that they can succeed."
This passion and purpose are at the heart of her new endeavors.
Fall 2020: Physician Coaching for Women
Summer 2021: Hopewell Pediatrics Cary, NC
The new practice will be part of a fast-growing, new healthcare model. In short: More time with patients and less time with insurers. The Direct Primary Care (DPC) model offers physicians a meaningful alternative to standard billing by allowing patients to pay a monthly fee instead. It also allows Dr. Petty to rekindle what she loves most: building trust and a rapport with her patients. "By using this model, I can practice the way I want and hold true to the values that are important to me," she says. Those had been diminished in the current system, which had her seeing 35+ patients a day for only 5-10 minutes. It was a recipe for burnout. Like many other physicians who are trained to be strong and self-sacrifice, Dr. Petty hit a tipping point during the pandemic. It led her to take a break from medicine last fall and reconsider what she was invested in. She found she wasn't alone.
"Many women physicians are unhappy - not with practicing medicine but practicing in a system that's not supportive of them"
For this reason, her coaching hones in on finding joy in practicing medicine again. "Medicine is such a great profession. It is a privilege to help people in their most vulnerable state."
It was coaching that led her to a "Why not?" moment for herself - a realization that now was the time to do what she'd always wanted. "I had to make a place at the table for myself," she said, both jubilant and determined.
It's a sentiment reinforced by her long-time style icon, Michelle Obama. The former First lady once said, "Success is only meaningful and enjoyable if it feels like your own." Now that Dr. Petty has taken the reins, she shares that she's at her very best and the happiest she's been in a long time.
To mark the moment, we asked her to model in our first-ever virtual photoshoot.
New Looks
Our art directors and stylists zoomed in as the other Dr. Petty stepped up as a photographer. "It was energizing having my husband with me. He calls me beautiful everyday and he had the opportunity to take in my moment of confidence," said our model, who called the looks a true reflection of her.
She defines her personal style as traditional with a unique flair and it's been her signature all her life. "That's why I gravitated to ELOQUII. The quality is there and they always push the envelope where style is concerned… I'm never let down." She admits to a closet full of ELOQUII staples. Some she got for occasions like the ruffle party dresses. Other styles are the baseline for her workwear, including the haul that made her feel her best when she began seeing patients again after maternity leave.
"When I walk into a patient's room in a stylish outfit, I feel confident… If a patient sees you as confident, they're more likely to put their trust in you."
This is exactly what she had in mind when she wore our Spotlight looks. In particular, the tie-neck blouse in black and white with leather pants felt bold and assertive.
She also dons styles with a casual flair that elevate at-home wear, such as our cozy denim looks: a dark wash paired with pastels and a distressed, light-wash for a moto impression. Also ideal for restful days, the striped loungewear with a peekaboo back. Our model felt so good in the latter that she hoped to one day take it from her tufted couch to a date at a restaurant with her husband. Dressing for date nights brings our gaze to the off-the-shoulder black slit dress. Dr. Petty added pearl accessories to this sleek style for an entirely refined energy. It's no surprise given finding beauty everywhere is something that comes naturally to Dr. Petty. Her adoration for aesthetics extends from the fashions she wears to the rooms she lives and works in. Just look to our backdrop: her well-adorned home. In just two years, she's achieved a polished look thanks to her discerning eye.
It's part of the vision she has for her family and their bright future.
New Vision
"To see a Black, female doctor in person is important and I want to widen that."
Last year, Dr. Petty wasn't sure that clinical medicine was still her path. Now, she sees a thriving pediatric practice ahead - later bringing on other physicians who possess the same qualities she prioritizes in caring for children and helping families. More doctors and also more locations.
"I want to widen the reach of the DPC model, spread the word about physician coaching for women and share my story more," she reflects. "To see a Black, female doctor in person is important and I want to widen that."
It's a powerful story and one we're honored to lend our platform to.
THE ELQ&A
Who are your style icons?
Michelle Obama. She's been my icon for years. I would read the style blog Mrs. O every day. She changed the game. Her grace, style, class and elegance is a model that I try to hold myself to.
Favorite childhood TV show?
The Cosby Show. It was one of the only shows that showed a Black family on that level.
What are you most proud of?
Being a wife to my husband Benjamin and a mother to my two sons. They are blessings and I love them so much.
Outside of medicine, what brings you joy?
Antiquing, decorating, thrifting and DIYing
Most unstoppable ELOQUII look you've worn?
The kimono dress with an obi belt that I wore on my anniversary or the yellow dress with a ruffled shoulder and hem that I wore for my birthday the year Beyonce's "Lemonade" came out.
Shop Tiffany's Looks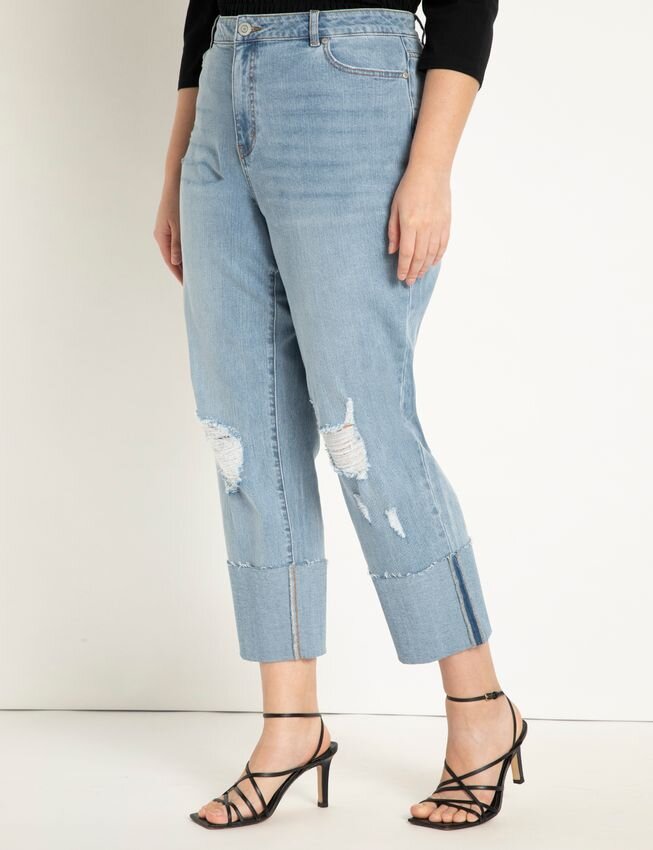 © 2018 ELOQUII DESIGN, INC - All Rights Reserved